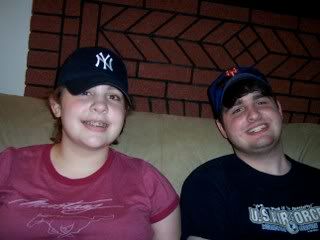 A happy consequence of all the changes life has delivered to our family over the past 15 months or so is that I've gotten to enjoy a lot more games with my kids. They both really get the game of baseball now, and love to tease me and each other about favorite players and teams (they're sporting their fav caps in the snap above). I love talking with them about points of base running strategy, or explaining why intentional walks can be a good thing, or the why there's an infield fly rule.
I've long been the bigger sports fan in our household, thanks to my college and professional experience in sports journalism, with kudos to the men in my childhood who didn't think there was a thing wrong with teaching a little girl about the games they loved. It's not that Tom doesn't enjoy sports, he does. It's just not as much of an interest for him as it has been for me.
My priority in watching professional sports are those players who seem to get real joy from the game they play. I can't stand the whiny, arrogant players who want to be stars more than they want to be sportsmen.
My current favorite in this regard in the NY Mets' third baseman David Wright. When he's on the field, he's all there, like a kid diving in the dirt every chance he gets, making plays with a grin. There are a number of talented young players on this Mets team, but even as he's playing pranks on his teammates in the dugout, he's wearing a boyish grin that is fun to watch.